On May 18, ...
1860: A guy named Lincoln is
nominated for the presidency
.
1927: The famous
Grauman's Chinese Theater opens
, paving the way for a certain film blogger to see
Starsky & Hutch
on his only trip there.
And, in a different year, not too long ago: Unbeknownst to many (but knownst to a few), one of the people who would bring said blogger into this world is, herself, brought into this world.
Hi, Mom!
Now, because the truck stop was all out of "Happy Birthday!" cards, here's a sample of favorites from one of The Film Official's favorites*:
*Note: She has pretty good taste**.
**Especially when it comes to sons.
-The Silly-
Die Hard
Yippie kay-yay, mother!
Snakes on a Plane
Speaking of mothers, I've had it with all these
monkey-fighting snakes on this Monday-to-Friday plane
!
Analyze This
A film with a plot so complex, it requires repeat viewings. Lots of them.
*Insert Mel Brooks Movie Here*
My mother certainly wasn't among the
Robin Hood
villagers shouting: "Leave us alone, Mel Brooks!"
"And a very happy birthday to

you

, ma'am!"
-The Serious & The Scary-
The Insider
Not only is this an intense, near-perfect portrayal both of journalistic integrity and the weight of responsibility, but
Russell Crowe
offers perhaps his best performance as the title character, a cigarette-company whistle blower struggling with whether he should spill all he knows about nicotine. Heck, Crowe might have even deserved an Oscar win for this or something.
Alien
I'm no parent or anything, but I believe those books contain a special "bonding" section, wherein it offers this advice: "The best moments between mother and son are simple ones, such as quiet walks through the park, reading chapter books, or watching movies about unlikable crewmembers being killed by a hissing, acid-blooded force of nature."
The Thing
"... or, if you don't want a visible alien, why not try one that simply infiltrates a victim's bloodstream and morphs itself into a perfect facsimile of that person?"
According to sources close to the situation, this scene might have been scream-inducing ...
And, of course ...
-The Ones I'll Never Forget-
Joe Versus the Volcano
They might disagree, Mom, but
I'm with you on this one
.
The Muppet Christmas Carol
You can have your Dickens prose or your
Alastair Sim
(or even your
Jim Carrey, coming soon
). In The Film Official's household, the story of Scrooge, ghosts and of Christmas itself comes as told by the Great Gonzo and Rizzo the Rat. No doubt.
The Land Before Time
Unfortunately, I can't type anything about this movie. My vision suddenly, inexplicably, has blurred.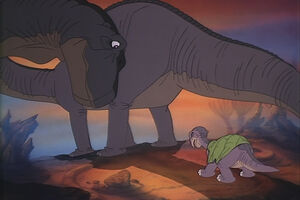 (Tear-inducing photo from Wikia.com)
Happy Birthday, Mom.
--Your son.